A seguito della conclusione positiva della fase di formazione, Netvalue ha ottenuto la certificazione necessaria per entrare a far parte della rete di partner di AWS https://partners.amazonaws.com/partners/001E0000015pTTDIA2/Netvalue%20S.r.l
Being part of the AWS network makes us proud and even more aware of being able to help our customers identify the best way to digitize processes and increase competitiveness.
What AWS is?
 https://aws.amazon.com/it/what-is-aws/

Who AWS is?
Gartner places him in the top right spot among the leaders (where everyone wants to be).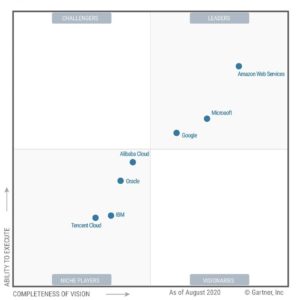 The infrastructures are always close to your business.
And Netvalue is by your side to identify your way to digital - your way to digital -
NETVALUE IS APN SELECT CONSULTING PARTNER