Offering Customers and Partners the possibility to contact the Company and receive feedback through the most used instant messaging systems is an increasingly widespread need: to allow simple and flexible communication of services such as Telegram and, at the same time, having a structured corporate "channel" that allows the Customer Support team to control and filter access, share and assign requests, track them, archive them, have statistical reports of managed activities, it is possible using solutions that integrate services instant messaging with BOT functions and Cloud applications.
REAL-TIME CUSTOMER SUPPORT CHAT BOT Netvalue's solution is a Cloud communication system based on TELEGRAM (Cloud platform, free of charge, instant messaging and broadcasting) integrated with a BOT (software application), specifically developed, which acts as an automatic interface for
automatically authorize and sort the message queue (requests / feedback) between the Client / Partner and the Telegram account of the company Customer Support (by activating and managing a chat between the Customer / Partner and the Customer Support operator for each request and notifying both parts in dialogue)
automatically identify the Customer / Partner
filter chats' access in order to avoid receiving messages from interlocutors who are not "authorized / registered"
take charge of requests
to archive the messages in order to use them for statistical and / or consultation purposes.
The system allows you to manage requests by joinin' them into a single company "chat channel" (shared currently by all Customer Support operators) both via mobile devices (smartphones and / or tablets) and desktop (PC).
To make operations easier, the BOT will make the functions available through "buttons" associated with the messages received on the company "channel".
The Telegram corporate "channel" can only be accessed by authenticated Customer Support operators.
The system supports the following types of content:
Text messages
Photos
Videos
Vocals
Common files attached (documents, images, etc.)
All system data including chats are stored on the dBase of the system dedicated to the company.
The system can be customized with functions for processing statistical reports relating to the service.
The service is provided on a highly reliable Cloud infrastructure that guarantees operational continuity (Business Continuity) and the highest levels of security:
the system does not provide for the possibility of access by Telegram to the BOT application and / or the dBase (the database and the BOT are not directly accessible from the Internet)
the interaction with Telegram is always carried out on the initiative of the BOT in long polling mode (periodically the BOT makes a "request" to Telegram to check for the "presence" of new messages)
all texts entered via the Telegram chat by users of the service are preliminarily verified through an input validation to allow the elimination of any strings and avoid SQL Injection attempts on the system dBase.
The figure summarizes the architecture of the service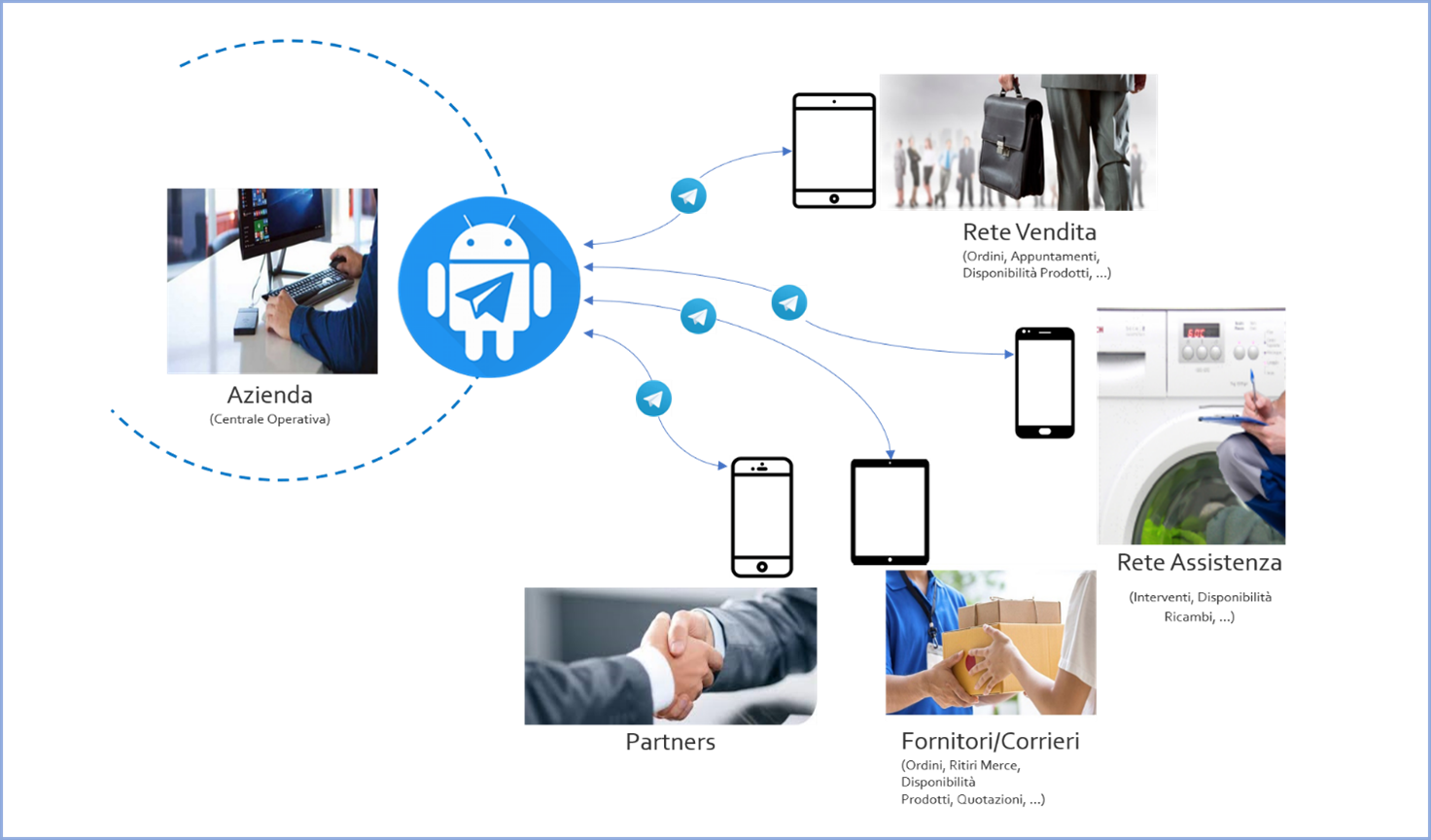 REAL-TIME CUSTOMER SUPPORT CHAT BOT's Netvalue solution is a service oriented to:
use communication tools according to the methods and behaviors most common among users
combine an easy implementation / activation and with operational efficacy on the part of both the Company and the Clients / Partners
optimize the front-line resources dedicated to the management of requests / information by making asynchronous communication (with respect, for example, to the telephone channel) and therefore being able to manage feedback in a more structured way
tracking of requests and feedbacks (dBase of messages)
customize the relationship between the Company and Customers / Partners / Suppliers (eg, customer loyalty orientation, brand loyalty, customer intimacy, etc.)
REAL-TIME assistance for the customer (anytime and everywhere)